Armed Forces (Special Powers) Act (AFSPA):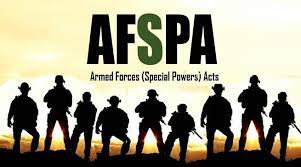 Nagaland will continue to be a 'disturbed area' for another six months under the AFSPA as the condition of the state remained "dangerous," a move which comes amid growing clamour for withdrawal of the special powers to the armed forces, especially after the death of 14 civilians earlier this month in a case of mistaken identity.
The state has been under the controversial AFSPA since 1958.
The Centre had recently decided to constitute a committee to study the possibility of withdrawing the Armed Forces (Special Powers) Act (AFSPA) from the State.
The committee would submit its report within 45 days.
The withdrawal of the "disturbed area" notification and the AFSPA from Nagaland will be based on the recommendations of the committee.
In simple terms, AFSPA gives armed forces the power to maintain public order in "disturbed areas".
They have the authority to prohibit a gathering of five or more persons in an area, can use force or even open fire after giving due warning if they feel a person is in contravention of the law.
If reasonable suspicion exists, the army can also arrest a person without a warrant; enter or search premises without a warrant; and ban the possession of firearms.
Any person arrested or taken into custody may be handed over to the officer in charge of the nearest police station along with a report detailing the circumstances that led to the arrest.
A disturbed area is one which is declared by notification under Section 3 of the AFSPA. An area can be disturbed due to differences or disputes between members of different religious, racial, language or regional groups or castes or communities.
The Central Government, or the Governor of the State or administrator of the Union Territory can declare the whole or part of the State or Union Territory as a disturbed area.