Thomas Cup 2022: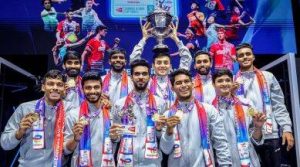 India's men's badminton team won the Thomas Cup title for the first time ever.
India have defeated the 14-time champions Indonesia. The tournament was held in Bangkok (Thailand).
Thomas Cup, trophy signifies the world supremacy in the sport of badminton.
It is a 16-nation team event.
The cup was donated in 1939 by Sir George Thomas for a series of men's international team competitions to be managed by the International Badminton Federation (IBF), of which Thomas was then president.
The first tournament was held in 1948–49 and won by Malaya.
Thomas and Uber Cup is the biennial international badminton championship contested by the men and women's national teams.
India's Win: In the tournament's seven-decade-long history, the championship title has changed hands only among five nations – China, Malaysia, Indonesia, Japan and Denmark.
With its win, India became only the sixth country ever to break into this elite club.