Corruption Perception Index 2021: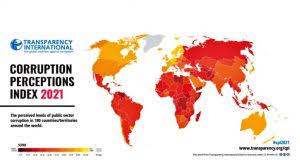 The Corruption Perception Index (CPI) 2021 was released by Transparency International.
Overall, the CPI shows that control of corruption has stagnated or worsened in 86% of countries over the last decade.
The Index ranks 180 countries and territories by their perceived levels of public sector corruption according to experts and businesspeople.
It relies on 13 independent data sources and uses a scale of zero to 100, where zero is highly corrupt and 100 is very clean.
More than two-thirds of countries (68%) score below 50 and the average global score remains static at 43. Since 2012, 25 countries significantly improved their scores, but in the same period 23 countries significantly declined.
This year, the top countries are Denmark, Finland and New Zealand, each with a score of 88. Norway (85), Singapore (85), Sweden (85), Switzerland (84), the Netherlands (82), Luxembourg (81) and Germany (80) complete the top 10.
South Sudan (11), Syria (13) and Somalia (13) remain at the bottom of the index.
Countries experiencing armed conflict or authoritarianism tend to earn the lowest scores, including Venezuela (14), Afghanistan (16), North Korea (16), Yemen (16), Equatorial Guinea (17), Libya (17) and Turkmenistan (19).
India ranked 85 among 180 countries in the current index (86 in 2020 and 80 in 2019). Transparency International gave India a CPI score of 40.
Except Bhutan, all of India's neighbours are ranked below it. Pakistan dropped 16 spots in the index and was ranked at 140.