Criminal Justice Reforms: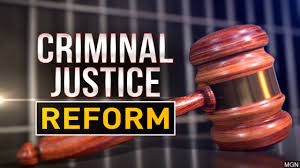 Experts have expressed "serious concerns over the slow pace of reforms in the criminal justice system to ensure speedy justice".
The delay in disposal of cases was leading to human rights violations of the under-trials and convicts.
Despite the Supreme Court's directions on police reforms, there had been hardly any changes on the ground.
Court orders convicting a person are also taking years to implement.
Special laws and fast-track courts could replace certain offences under the Indian Penal Code in order to reduce the piling up of cases at every police station.
Digitisation of documents would help in speeding up investigations and trials.
The construction of new offences and reworking of the existing classification of offences must be guided by the principles of criminal jurisprudence which have substantially altered in the past four decades.
The classification of offences must be done in a manner conducive to management of crimes in the future.
The discretion of judges in deciding the quantum and nature of sentence differently for crimes of the same nature should be based on principles of judicial precedent.
Criminal law in India:
The Criminal law in India is contained in a number of sources – The Indian Penal Code of 1860, the Protection of Civil Rights Act, 1955, Dowry Prohibition Act, 1961 and the Scheduled Castes and Scheduled Tribes (Prevention of Atrocities) Act, 1989.
Criminal Justice System can impose penalties on those who violate the established laws.
The criminal law and criminal procedure are in the concurrent list of the seventh schedule of the constitution.
Lord Thomas Babington Macaulay is said to be the chief architect of codifications of criminal laws in India.
The Ministry of Home Affairs (MHA) has constituted a national level committee for reform in criminal law.
The committee has been constituted under Ranbir Singh and several other members.
The committee would be gathering opinions online by consulting with experts and collating material for their report to the government.