What Is Project Dolphin?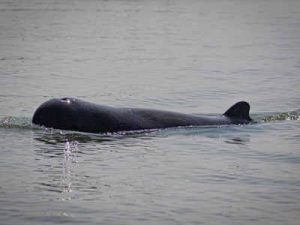 The MInistry of Jal Shakti expressed his displeasure over the slow pace of the approval process for Project Dolphin.
Project Dolphin initiative got in-principle approval in 2019 at the first meeting of the National Ganga Council (NGC), headed by the Prime Minister.
Project Dolphin is one of the activities planned under Arth Ganga, an ambitious inter-ministerial initiative of the government approved in 2019.
Project Dolphin will be on the lines of Project Tiger, which has helped increase the tiger population.
It is expected to be implemented by the Ministry of Environment, Forest and Climate Change.
A Special Conservation program needs to be taken up for Gangetic Dolphin which is a national aquatic animal and also indicator species for the river Ganga spread over several states.
Indicator species, organisms—often a microorganism or a plant—that serves as a measure of the environmental conditions that exist in a given locale.
As the Gangetic dolphin is at the top of the food chain, protecting the species and its habitat will ensure conservation of aquatic lives of the river.
So far, the National Mission for Clean Ganga (NMCG), which implements the government's flagship scheme Namami Gange, has been taking some initiatives for saving dolphins.
The Rhine Action Plan (1987) of the International Commission for the Protection of the Rhine (ICPR) — representing Switzerland, France, Germany, Luxemburg and the Netherlands — helped in conservation of the salmon fish (also an indicator species).