Justice D Y Chandrachud : Chief Justice Of India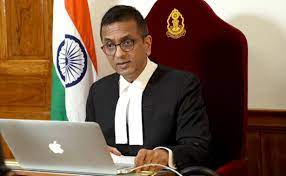 Chief Justice of India UU Lalit recommends Justice D Y Chandrachud as next Chief Justice of India.
Chief Justice Lalit's recommendation to the government would start the process for appointment of Justice Chandrachud as the 50th Chief Justice of India.
If the government approval comes through, Justice Chandrachud would be the first second-generation CJI.
His father, Justice Y.V. Chandrachud, was the 16th CJI and one of the longest serving.
Chief Justice Lalit is scheduled to retire on November 8 at the end of a 74-day tenure as top judge.
Justice Chandrachud is expected to be sworn in and assume charge as Chief Justice of India from November 9.
He has a tenure of two years as Chief Justice until his retirement on November 11, 2024.
Justice Chandrachud was appointed judge of the Supreme Court on May 13, 2016.
He was before that the Chief Justice of the Allahabad High Court from October 31, 2013.
Justice Chandrachud began his career as a judge in the Bombay High Court on March 29, 2000 until his appointment as the Chief Justice of the Allahabad High Court.