Curcuma kakchingense : New Flowering Plant Species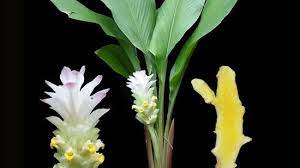 Researchers in Manipur recently discovered a new flowering plant species and have named the new species Curcuma kakchingense.
Curcuma kakchingense is a new flowering plant species discovered in Manipur.
It is a member of the angiospermic family Zingiberaceae, which includes well-known plants like Curcuma (turmeric), gingers, and cardamom.
It is a robust plant, as tall as eight feet, having large terminal inflorescence.
It was found thriving along the banks of the Sekmai River in the Kakching District of Manipur.
It bears a striking resemblance to Curcuma longa, known locally as "Yaingung," and Curcuma phrayawan, a species from Thailand, but is distinguished by having lemon-yellow rhizomes with a very bitter taste.
It has been classified as "Data Deficient" (DD) under the IUCN Red List category.
Several Curcuma species, including the turmeric (Curcuma longa are important for their use in cuisines, traditional medicines, spices, dyes, perfumes, cosmetics, and as ornamental plants.