Protest Of Ahir Community: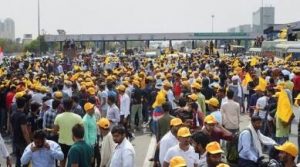 Members of the Ahir community have been sitting on an indefinite protest near Kherki Daula toll plaza in Gurgaon since February 4, demanding the formation of an Ahir regiment in the Indian Army.
The protests are being organised under the banner of 'Sanyukt Ahir Regiment Morcha', a group comprising Ahir community leaders from south Haryana.
The protesters contend that the Indian Army had several caste-based regiments (for Sikhs, Gorkhas, Jaats, Garhwals, Rajputs).
Since Ahirs had a large representation in the army, they want a separate regiment for Ahirs along similar lines.
In the battle of Rezang La in 1962, out of 120 casualties, 114 were Ahirs.
It is unfortunate that Ahirs have not got the recognition like other communities.
The recruitment to President's Bodyguard (PBG) is open only for Rajputs, Jats and Sikh regiments.
Ahir or Aheer is a community in India, most members of which identify as being of the Indian Yadav community because they consider the two terms to be synonymous.
The Ahirs are variously described as a caste, a clan, a community, a race and a tribe.
The traditional occupations of Ahirs are cattle-herding and agriculture.
They are found throughout India but are particularly concentrated in the northern area.