Czech Republic: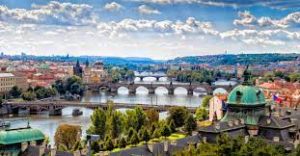 A day after the Czech Republic expelled 18 Russian diplomats, Russia retaliated by announcing it would send back 20 Czech diplomats, exacerbating relations that have already been strained in recent times.
Prague had accused Russian embassy officials of being intelligence operatives and said that it suspected them of being involved in a 2014 explosion at an arms depot that left two dead.
The Czech Republic is a landlocked country in Central Europe.
It is bordered by Austria to the south, Germany to the west, Poland to the northeast, and Slovakia to the east.
Its capital is Prague.
Czech Republic:
In the 19th century, the Czech lands became more industrialized, and in 1918 most of it became part of the First Czechoslovak Republic following the collapse of Austria-Hungary after World War I.
After the Munich Agreement in 1938, Nazi Germany systematically took control over the Czech lands.
Czechoslovakia was restored in 1945 and became an Eastern Bloc communist state following a coup d'état in 1948.
In November 1989, the Velvet Revolution ended Communist rule in the country, and on 1 January 1993 Czechoslovakia dissolved with its constituent states becoming the independent states of the Czech Republic and Slovakia.