Republic Of Cyprus: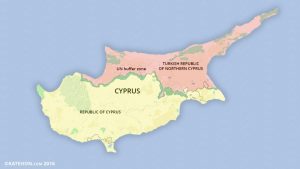 The All India Council for Technical Education (AICTE) has directed all engineering and technical colleges in the country to ensure their faculty members do not participate in conferences organised by countries which are not recognised by the Indian government.
The stern directive by the technical education regulator came following an objection raised by the Cyprus government with the Ministry of External Affairs (MEA) after some Indian academics participated in a conference organised in the occupied part of the Republic of Cyprus.
Cyprus , officially called the Republic of Cyprus, is an island country in the eastern Mediterranean Sea.
It is the third largest and third most populous island in the Mediterranean and is located south of Turkey; west of Syria; northwest of the Gaza Strip, Israel, and Lebanon; north of Egypt; and southeast of Greece.
The country's capital and largest city is Nicosia.
However, the Republic of Cyprus is de facto partitioned into two main parts:

the area under the effective control of the Republic, located in the south and west and comprising about 59% of the island's area, and
the north, administered by the self-declared Turkish Republic of Northern Cyprus, covering about 36% of the island's area.

Another nearly 4% of the island's area is covered by the UN buffer zone.