Dam Safety Bill (2019):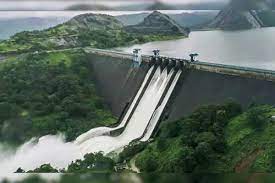 The Rajya Sabha passed the landmark Dam Safety Bill (2019), paving the way for enactment of the Dam Safety Act in the country.
The Dam Safety Bill (2019) was passed by the Lok Sabha on 2nd August 2019
The Bill provides for the surveillance, inspection, operation, and maintenance of all specified dams across the country. These are dams with height more than 15 metres, or height between 10 metres to 15 metres with certain design and structural conditions.
It constitutes two national bodies:

the National Committee on Dam Safety, whose functions include evolving policies and recommending regulations regarding dam safety standards; and
the National Dam Safety Authority, whose functions include implementing policies of the National Committee, providing technical assistance to State Dam Safety Organisations (SDSOs), and resolving matters between SDSOs of states or between a SDSO and any dam owner in that state.

It also constitutes two state bodies: State Committee on Dam Safety, and State Dam Safety Organisation. These bodies will be responsible for the surveillance, inspection, and monitoring the operation and maintenance of dams within their jurisdiction.
Functions of the national bodies and the State Committees on Dam Safety have been provided in Schedules to the Bill.
These Schedules can be amended by a government notification.
An offence under the Bill can lead to imprisonment of up to two years, or a fine, or both.