Sardar Sarovar Dam: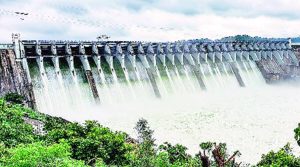 Sardar Sarovar Dam is providing irrigation water in summer for the first time in history.
The Sardar Sarovar Narmada Dam is a terminal dam built on the Narmada river at Kevadia in Gujarat's Narmada district.
According to the 1979 award of the Narmada Water Dispute Tribunal, the power benefits from the project are to be shared in the following ratio: Madhya Pradesh at 57 per cent, Maharashtra at 27 per cent, and Gujarat at 16 per cent
Garudeshwar weir is being constructed on the river Narmada near the Statue of Unity.
The total height of the weir will be 31.75 metre.
It is located at Garudeshwar at a distance of 9 kilometre from Sadhu bet island and 12 kilometre downstream from Sardar Sarovar dam.