Eklavya Model Residential Schools (EMRS):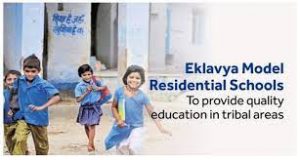 Ministry of Tribal Affairs and Microsoft sign MoU on Joint initiative for Digital Transformation of Tribal Schools such as Eklavya Model Residential Schools (EMRS) and Ashram Schools.
Under the affirmative action initiative, Microsoft will make AI curriculum available to tribal students in both English and Hindi at all EMRS schools under the Ministry to skill educators and students in next-generation technologies including Artificial Intelligence.
Under this program in the first phase, 250 EMRS schools have been adopted by Microsoft out of which 50 EMRS schools will be given intensive training and 500 master trainers would be trained in the first phase.
Eklavya Model Residential Schools (EMRS) started in the year 1997-98 to impart quality education to ST children in remote areas in order to enable them to avail of opportunities in high and professional education courses and get employment in various sectors.
In order to give further impetus to EMRS, it has been decided that by the year 2022, every block with more than 50% ST population and at least 20,000 tribal persons, will have an EMRS.