Defense Cooperation Agreement : India And Romania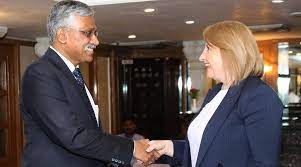 India and Romania have signed the Defense Cooperation Agreement, aiming to set up and expand Military Cooperation between both countries.
The agreement will provide the legal framework for future cooperation in the field of defense through the exchange of expertise and knowledge on subjects of mutual interest including co-development and co-production of military hardware.
The agreement will promote cooperation in the field of defense between both countries and open up enormous opportunities in sectors like defense medicine, scientific research, cyber defense, technology and research and development.
India-Romania bilateral ties, formally established in 1948, have witnessed a steady growth.
Both maintained friendly and cordial relations, culminating in the celebration of 70 years of diplomatic ties in 2018.
Since the 1989 revolution in Romania, which overthrew the communist government, both countries have steadily increased trade and investments in each other.
At the multilateral level, India and Romania have extended support to each other at the UN.