India – Israel Agreement On Agriculture Cooperation: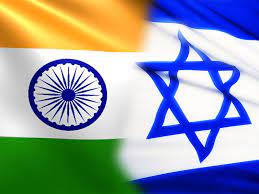 India and Israel have signed "a three-year work program agreement" for development in agriculture cooperation.
The programme aims to grow existing Centres of Excellence, establish new centers, increase CoE's value chain, bring the Centres of Excellence into the self-sufficient mode, and encourage private sector companies and collaboration.
Both countries are implementing the "INDO-ISRAEL Agricultural Project Centres of Excellence" and "INDO-ISRAEL Villages of Excellence".
Indo-Israeli Agriculture Project:
Indo-Israeli Agricultural Cooperation Project started in 2008 following the signing of a three-year Action Plan based on a Government to Government Agreement.
Both started an agricultural fund worth $50 million that focused on dairy, farming technology, and micro-irrigation.
By March 2014, 10 centers of excellence operated throughout India offering free training sessions for farmers on efficient agricultural techniques using Israeli technological expertise. Vertical farming, drip irrigation, and soil solarization are taught at the centers.
INDO-ISRAEL Villages of Excellence (IIVOE):
This is a new concept aimed at creating a model ecosystem in agriculture across eight states, alongside 13 Centers of Excellence within 75 villages.
The program will promote the increase of net income and better the livelihood of the individual farmer, transforming traditional farms into modern-intensive farms based on Indo-Israel Agriculture Action Plan (IIAP) standards.
A large-scale and complete value chain approach with economic sustainability, embedded with Israeli novel technologies and methodologies will be tailored to local conditions.
The IIVOE program will focus on (1) Modern Agriculture infrastructure, (2) Capacity Building, (3) Market linkage.