Delhi's Master Plan 2041: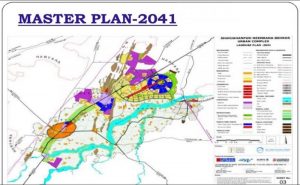 The Delhi Development Authority has gave its preliminary approval to the draft Master Plan for Delhi 2041. The draft is now in the public domain for objections and suggestions from citizens, after which it will be enforced.
A master plan of any city is like a vision document by the planners and the land-owning agency of the city, which gives a direction to the future development.
It includes analysis, recommendations, and proposals keeping in mind the population, economy, housing, transportation, community facilities, and land use.
Master Plan 2041 For Delhi:
It seeks to "foster a sustainable, liveable and vibrant Delhi by 2041".
In the housing sector, it talks about incentivizing rented accommodation by inviting private players and government agencies to invest more, keeping in mind the large migrant population.
'User pays' principle: To address parking problems, it suggests a 'user pays principle, which means users of all personal motor vehicles, except for non-motorized ones, have to pay for authorized parking facilities, spaces, and streets.
It aims to minimize vehicular pollution through key strategies, including a switch to greener fuels for public transport and adoption of mixed-use of transit-oriented development (also known as TOD).
The draft lays a clear boundary of the buffer zone near the Yamuna river– a 300-meter width shall be maintained wherever feasible along the entire edge of the river.