India Cooling Action Plan: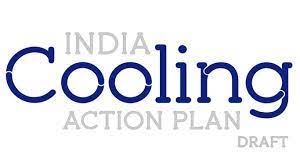 Union Environment Minister Bhupender Yadav has said that India is the first country with a cooling action plan based on energy efficiency and thermal comfort.
He stated this while addressing the Ministerial Roundtable for Green Economy at the World Green Economy Summit at the World Trade Center in Dubai.
The India Cooling Action seeks to:
reduce cooling demand across sectors by 20% to 25% by 2037-38,
reduce refrigerant demand by 25% to 30% by 2037-38,
Reduce cooling energy requirements by 25% to 40% by 2037-38,
recognize "cooling and related areas" as a thrust area of research under national S&T Programme,
training and certification of 100,000 servicing sector technicians by 2022-23, synergizing with Skill India Mission.
Benefits would accrue to the society:

Thermal comfort for all – provision for cooling for EWS and LIG housing,
Sustainable cooling – low GHG emissions related to cooling,
Doubling Farmers Income – better cold chain infrastructure – better value of produce to farmers, less wastage of produce,
Robust R&D on alternative cooling technologies – to provide push to innovation in cooling sector.