Draft Regional Plan 2041: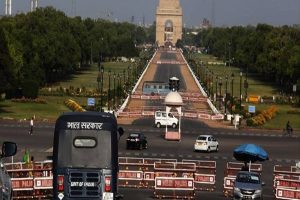 The National Capital Region Planning Board (NCRPB) has recently approved the 'Draft Regional Plan 2041' according to which the National Capital Region (NCR) is likely to reduce in size.
NCRPB was set up in 1985, to promote balanced development of the NCR and to avoid haphazard development
The geographical size of the region will be a contiguous circular region of 100km radius from Rajghat (Delhi). The area in the 100km radius can be developed as a core area.
NCR is a region envisaged in 1985 for coordinated urban development in and around Delhi.
Beyond 100 km radius and up to the existing NCR boundary, all notified cities/towns along with a corridor of one km on either side of connecting expressways/national highways/state highways/Regional Rapid Transit System will be included.
Currently, the NCR consists of 24 districts in Uttar Pradesh, Haryana and Rajasthan and entire Delhi, spread across an area of 55,083 square kilometres.
The name of natural conservation zones, as introduced in the Regional Plan-2021 will be changed to "natural zones" in the upcoming Regional Plan-2041.
States will be empowered to decide whether tehsils that fall partly inside the NCR boundary should remain in it or not.
The DRP 2041 Plan will pave the way for a future-ready, slum-free National Capital Region with an air ambulance facility and high-speed connectivity through helitaxis, road, rail, and inland waterways.
The Plan proposes to explore the feasibility of a 30-minute Mass Transit Rail System (MTRS) from the nearest NCR boundaries to Delhi.
If implemented, parts of Panipat in Haryana and Muzaffarnagar in Uttar Pradesh will be dropped from the new NCR map.
The idea is to have a compact area so that the development can be planned in a better manner.
It will benefit the rural areas, as the state governments can plan for their development in a better manner.