Decentralized Triage and Emergency Response (DETER) Committees: Karnataka: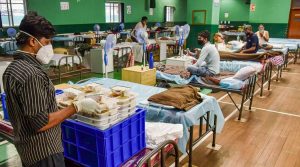 To manage the Covid pandemic at the local level, the Karnataka state government has formed Decentralized Triage and Emergency Response (DETER) Committees at ward levels in Bengaluru.
About DETER committees:
The objective is to strengthen government response and management of the coronavirus pandemic.
These teams will emphasize the distribution of localized action in a decentralized system of disaster response.
They will be run in synergy with officials, ward committee members, government officers, representatives of the peoples, volunteers from resident welfare associations, civil society organizations, and disaster-support initiatives.
They will act as the first point of contact for those infected with Covid-19.
The Karnataka government has formulated a '3E Strategy' for WDCs to micromanage Covid-19 in a comprehensive manner.
The 3E Strategy is explained as follows: Efficient admission to hospitals facilitated by community triage services; Efficient discharge from hospitals enabling efficient bed-turnover; Empowering hospitals, doctors, and their management with supportive supervision.
This is expected to improve supervision for better ward-level Covid governance.