Uttarakhand State Foundation Day: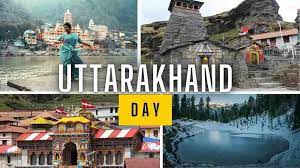 9th November is celebrated as Uttarakhand State Foundation Day, as on this day Uttarakhand became India's 27th state on November 9, 2000, when it was carved out of northern Uttar Pradesh.
The state was originally named Uttaranchal, but was renamed Uttarakhand in 2007.
The name Uttarakhand comes from the Sanskrit dialect and means "northern city"
Uttarakhand is a land of natural beauty, cultural diversity, and religious significance.
It is home to the Char Dham, the four sacred Hindu pilgrimage sites of Badrinath, Kedarnath, Gangotri, and Yamunotri.
Uttarakhand is home to two UNESCO Heritage sites, Valley of Flowers and Nanda Devi National Park.