Cabinet Committees: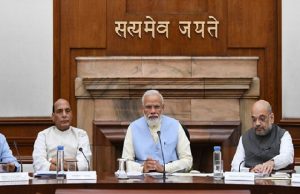 After a large-scale rejig at the Council of Ministers, Prime Minister effected some changes in Cabinet committees.
Eight Cabinet Committees:
Appointments Committee of the Cabinet.
Cabinet Committee on Accommodation.
Cabinet Committee on Economic Affairs.
Cabinet Committee on Parliamentary Affairs.
Cabinet Committee on Political Affairs.
Cabinet Committee on Security.
Cabinet Committee on Investment and Growth.
Cabinet Committee on Employment & Skill Development.
All committees except Cabinet Committee on Accommodation and Cabinet Committee on Parliamentary Affairs are headed by the Prime Minister.
They are extra-constitutional in emergence.
In other words, they are not mentioned in the Constitution. However, the Rules of Business provide for their establishment.
The executive in India works under the Government of India Transaction of Business Rules, 1961.
These Rules emerge from Article 77(3) of the Constitution, which states: "The President shall make rules for the more convenient transaction of the business of the Government of India, and for the allocation among Ministers of the said business."
The Prime Minister constitutes Standing Committees of the Cabinet and sets out the specific functions assigned to them.
He can add or reduce the number of committees.
In addition to cabinet committees, several Groups of Ministers (GoMs) are constituted to look into different issues/subjects.