Engineering Research Policy: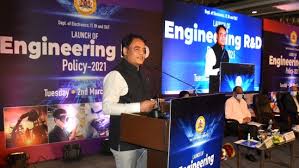 Karnataka has launched the country's maiden Engineering Research & Development (ER&D) Policy.
According to industry apex body Nasscom, ER&D has the potential to become a $100-billion industry in the country in the next five years.
The ER&D sector in the country is the fastest growing industry with a CAGR of 12.8%. Meanwhile, the global engineering research and development industry is expected to reach a spend of $2 trillion by 2025.
Highlights of the new policy:
It seeks to raise the contribution to the sector in the country to 45% in the next five years.
It has the potential to create over 50,000 jobs in the ER&D space in five years.
The policy aims to prepare the State to make use of the future opportunities emanating from this sector.
It has identified five key focus sectors as aerospace and defense; auto, auto components, and EV; biotechnology, pharma, and medical devices; semiconductors, telecom, ESDM; and software products.