Dharma Chakra Day : Buddha's First Teaching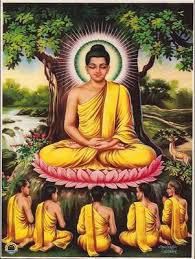 President of India (at the Dharma Chakra Pravartan Divas celebrations) highlighted the importance of Buddha's teachings and called upon the youth to draw inspiration from them.
Key highlights:
The president emphasized the significance of following Sheel, Sadhachar, and Pragya to empower the younger generation and create a positive impact on society.
The construction contract for the India International Centre for Buddhist Culture and Heritage in Lumbini, Nepal was also awarded.
Dharma Chakra Day is celebrated to commemorate Buddha's first teaching after attaining enlightenment.
It is observed on the full moon day of Asadha in the Indian sun calendar.
It is also observed as Guru Purnima, a day to honour spiritual teachers, by both Buddhists and Hindus.
Date : 4th July 2020
Organized by Ministry of Culture in partnership with the International Buddhist Confederation (IBC)
It Commemorates the Dhamma Cakka-Pavattana Sutta, including the Four Noble Truths and Noble Eightfold Path
The day marks the beginning of the Rainy Season retreat for monks and nuns.
Other Names Asadha Poornima (India); Esala Poya (Sri Lanka); Asanha Bucha (Thailand)
Guru Purnima Falls on a full-moon day in the Hindu month of Ashadh. Dedicated to Maharshi Veda Vyasa, editor of the Vedas and creator of Hindu scriptures.
Also marks Lord Buddha's first sermon delivered at Sarnath on the same day.