Exercise Dharma Guardian-2023: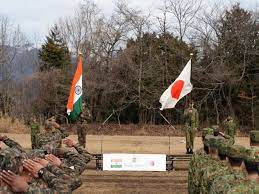 A joint military exercise Dharma Guardian between India and Japan to begin from 17 February 2023 at Camp Imazu in Japan.
Exercise Dharma Guardian-2023: is the 4th joint military exercise between India and Japan which is being conducted since 2018.
The scope of this exercise covers platoon-level joint training on operations in jungle and semi-urban or urban terrain.
Troops of the Garhwal Rifles Regiment of the Indian Army and an Infantry Regiment from the Middle Army of the Japan Ground Self Defence Force are participating in the exercise.
This joint exercise will enable the two armies to share best practices in tactics, techniques and procedures for conducting tactical operations under a UN Mandate.