Gucchi Mushroom : Hunters Are Facing Distressing Circumstances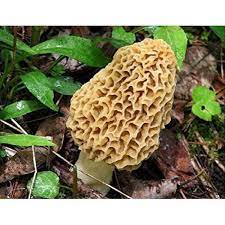 Gucchi mushroom hunters are facing distressing circumstances for the second consecutive year as a result of unpredictable weather patterns, early springs, and above-average temperatures, leading to another season of low yield.
These mushrooms are sought after for their nutty, earthy flavour and are notoriously difficult to find.
The Guchhi mushroom is a species of fungus in the family Morchellaceae of the Ascomycota.
They are pale yellow in colour with large pits and ridges on the surface of the cap, raised on a large white stem.
These mushrooms are also replete with health benefits.
They are rich in potassium, vitamins and copper.
They are also a rich source of vitamin D apart from several B vitamins.
It is further rich in antioxidants that prevent health issues including heart diseases and diabetes by removing reactive oxygen species that harm the body.
Climate change, deforestation, and habitat destruction have also contributed to the rarity of gucchi mushrooms.
The reduction in supplies has impacted both pickers and traders, leading to a decline in the overall production of morels.