Dharohar : The National Museum Of Customs And GST In Panaji Goa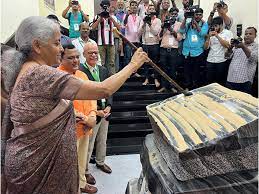 Union Minister for Finance and Corporate Affairs Nirmala Sitharaman dedicated to the nation, Dharohar – the National Museum of Customs and GST in Panaji Goa.
The two-storey 'Blue building', which was earlier known as Alfandega, during the period of Portuguese rule in Goa, has been standing on the banks of the Mandovi River in Panaji for more than 400 years.
Dharohar is one of its kind museums in the country that showcases not only the artifacts seized by Indian Customs but also depicts various aspects of work performed by the Customs Department.
'Dharohar' has eight galleries. GST Gallery is a brand new addition to the Dharohar Museum.
A first-of-its-kind initiative in the country, this GST Gallery takes one through the long and arduous journey of GST spanning two decades.