Charaideo Maidam Of Ahom Kingdom : Proposal For World Heritage Site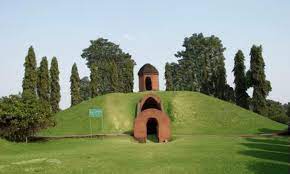 Assam Chief Minister recently said that the Central Government has decided to send a proposal to UNESCO nominating Charaideo Maidam of Ahom Kingdom as a World Heritage Site.
Charaideo commonly known as 'Pyramids of Assam' was the original capital of the Ahom Kings.
Charaideo remained the symbolic center of Ahom Kingdom even though the capital of the kingdom moved many times.
It was built by Chaolung Sukhapa the founder of the dynasty in about 1229 CE.
Located at the foothills of Nagaland, it's situated at a distance of around 30 KM from the historical Sivsagar town in Assam.
Charaideo known as 'Pyramids of Assam' contains sacred burial grounds of Ahom kings and queens and is also the place of the ancestral Gods of the Ahoms.
Some 42 tombs (Maidams) of Ahom kings and queens are present at Charaideo hillocks.
It comprises a massive underground vault with one or more chambers having domical superstructure and covered by a heap of earthen mound and externally it appears a hemispherical mound.
Ahom Dynasty:
It was founded by Chaolung Sukapha , who entered the Brahmaputra valley in 1228.
They ruled Assam for six centuries.
The Ahoms created a new state by taking over the older political system of the bhuiyans (landlords).
The Ahom administration was a monarchial government with democratic and aristocratic values as well.
Ahom society was divided into clans and with the expansion of the kingdom, the clans moved and took charge of the designated territory.
The Ahoms followed stringent travel policies to protect their motherland against the foreign invaders for inward travel.