Khelo India University Games 2021: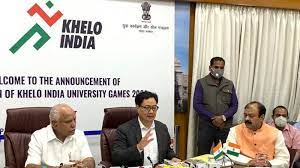 2021 Khelo India University Games logo was unveiled recently. It will be held in Karnataka from 24th April 2022. At the Sree Kanteerava Stadium, Bengaluru the logo was unveiled.
The Jain University, Bengaluru will be hosting this event from 24th April to 3rd May 2022.
Anurag Thakur, Union Sports Minister, and Karnataka Governor TC Gehlot were present during the launch event.
This event was postponed earlier due to the COVID-19 pandemic.
This edition will be the second edition of the games.
The first edition of the Khelo India University Games was held in Odisha in 2020.
The official jersey for the games was also launched.
The anthem for the 2021 Khelo India University Games has been sung by Nikhil Joshi and Chandan Shetty.
Mallakhamb and Yogasana along with 18 other sports will be featured in the upcoming games.
Nearly 4,500 athletes will be participating from across India.
An app named Khelo India App was also launched by the state for providing live updates on the Games.
Mascot: The official mascot of the Games is 'Veera', an elephant.
Logo of the Games: The iconic Vidhana Soudha building which is the state of Karnataka's Legislative House and is located in Bengaluru features in this year's logo along with two elephants on either side.