Discourse On Rural Financial Inclusion: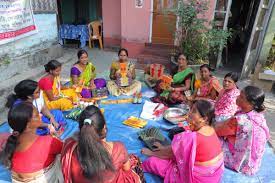 Deendayal Antyodaya Yojana – National Rural Livelihoods Mission (DAY-NRLM) organised a special event called "Discourse on Rural Financial Inclusion" on 18th December, 2021.
As a part of the event, the facility for overdraft (OD of Rs. 5,000/- to verified SHG members under DAY – NRLM having accounts under the prime Minister Jan Dhan Yojana with Banks was launched by Department of Rural Development.
This facility has been initiated in pursuance of the announcement made by the Finance Minister in her budget speech of 2019-20.
Six Women SHG members from three States i.e., Rajasthan, Jharkhand and Uttar Pradesh (Two from each State) were provided with a cheque of Rs. 5,000 to mark the start of the scheme.
It is estimated that about 5 crore women SHG members under DAY-NRLM would be benefitted from this facility eventually.