Eco-Sensitive Zone Around Wayanad Wildlife Sanctuary: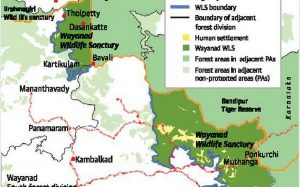 The draft notification of the Ministry of Environment, Forest, and Climate Change (MoEFCC) on an Eco-Sensitive Zone (ESZ) which runs around the Wayanad Wildlife Sanctuary (WWS) has triggered protests in Wayanad (Kerala).
Draft Notification:
The 118.5 sq km area has been earmarked as an Eco-Sensitive Zone (ESZ), of which 99.5 sq km is outside the sanctuary and the remaining 19 sq km comprises revenue villages within the sanctuary.
There will be restrictions on several human activities in ESZ, including a ban on all new and existing mining, stone quarrying and crushing units, and new industries causing pollution.
It also includes a ban on the establishment of major hydroelectric projects and the setting up of new sawmills, brick kilns, and commercial use of firewood within ESZ.
Besides, no new commercial hotels and resorts shall be permitted within 1km of the boundary of the protected area or up to the extent of ESZ, whichever is nearer.
It also bars the felling of trees in private lands without prior permission of the competent authority in the state government.