Drought Tolerant Crop: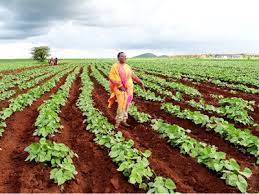 A study has noted that a common weed named "Portulaca oleracea", commonly known as purslane, offers important clues about creating drought-tolerant crops in a world beset by climate change.
Yale University scientists integrated two metabolic pathways to produce a novel type of photosynthesis that enables the weed to withstand drought while remaining highly 'productive'.
Purslane possesses evolutionary adaptations that allow it to be both highly productive and drought tolerant.
It is mostly an annual, but it may be perennial in the tropics.
Stems are glabrous, fleshy, purplish-red to green, arising from a taproot, often prostrate, forming mats.
It is most common in the temperate and subtropical regions, although it extends into the tropics and higher latitudes.
It is common in fields, gardens, vineyards, lawns, driveways, dunes, beaches, salt marshes, waste areas, eroded slopes, bluffs and riverbanks.
It competes for resources with many field crops, particularly herbaceous species that are germinating or growing in competition.
Affected crops include: asparagus, red beets, celery, crucifers, cotton, maize, onions, potatoes, rice, soyabeans, sugarcane, tomatoes and wheat.
It has a wide tolerance of photoperiod, light intensity, temperature, moisture and soil type.
Seeds germinate under conditions that enhance the survival of seedlings.
The species is self-compatible.