e-SCR Project: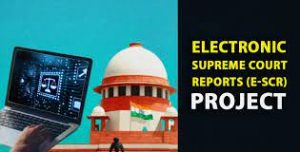 Electronic Supreme Court Reports (e-SCR) project has been launched to provide the digital version of the SC's judgements in the manner as they are reported in the official law report 'Supreme Court Reports'
The report aims to provide the entire judgement of SC from inception in 1950 to date.
The eCourts Mission Mode Project is a national eGovernance project for Information and Communication Technology (ICT) enablement of district & subordinate courts of the country.
The objective of the project is to provide designated services to litigants, lawyers and the judiciary through ICT enablement of courts.