M1 Abrams Tanks: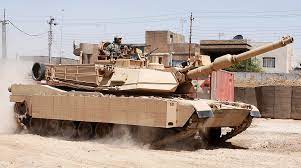 United States President Joe Biden recently announced that he will send 31 state-of-the-art M1 Abrams battle tanks to Ukraine to help its troops push back Russian forces.
M1 Abrams tanks is the United States main battle tank.
The first M1 tank was manufactured by General Dynamics Land Systems (GDLS) in 1978 and was delivered to the US Army in 1980.
It was named in honor to General Abrams, commander of US forces during the Vietnam War.
The export version of the Abrams is used by the armies of Australia, Egypt, Iraq, Kuwait, Poland, and Saudi Arabia.
Features:
It uses a powerful and complex turbine engine that produces 1,500 horsepower and requires four persons to operate.
It is one of the heaviest tanks in service at nearly 62 metric tons.
The M1 tanks have a maximum speed of 45
It can destroy tank-size targets at a range of 2 km while firing on the move.
In modern versions of the Abrams tank, there are layers of depleted uranium armour which provides substantial protection to those inside.