Protests Of The Jain Community: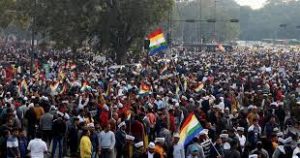 Members of the Jain community have been staging protests across the country for the past two weeks over demands related to two holy sites — Sammed Shikhar on Parasnath hill in Jharkhand and Shetrunjay hill in Palitana of Gujarat.
In Jharkhand, the issue is about Parasnath hill being declared a tourist spot and an eco-sensitive zone, neither the Centre nor the state consulted the main stakeholder
In Gujarat, the row is over the vandalising of a shrine and related security concerns, the Jains are demanding that Shetrunjay hill and the area around it be protected so as to maintain its holiness.
They also want further probe into the vandalism case.
Sammed Shikharji Temple:
It is believed that 20 out of 24 Tirthankars (Jain spiritual leaders) attained salvation at Sammed Shikharji.
Sammed Shikharji, located on the Parasnath Hills in the Giridih district of Jharkhand, is the biggest pilgrimage of the Jain community.
It is important for both the Digambara and Swethambara sects of Jainism.
The hill is known to be the highest mountain in Jharkhand.
The Hill is named after Parasnath (the 23rd Tirthankar)
Shetrunjay hill:
Situated on the banks of the Shetrunji river around 164 feet above sea level, Shetrunjaya Hills near Palitana city are home to 865 Jain temples and are a holy place for Shwetambara Jains.