E-Waste Generation: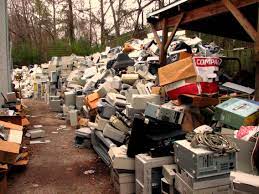 International E-Waste Day has been observed on 14th October since 2018.
The aim of the day is to raise awareness about the millions of tonnes of e-waste generated worldwide each year, which has a negative impact on the environment and natural resources.
Earlier this year, the Principal Bench of National Green Tribunal (NGT) issued directions for the implementation of E-Waste (Management) Rules, 2016.
E-Waste is short for Electronic-Waste and the term is used to describe old, end-of-life or discarded electronic appliances. It includes their components, consumables, parts and spares.
It is categorised into 21 types under two broad categories:

Information technology and communication equipment.
Consumer electrical and electronics.

Laws to manage e-waste have been in place in India since 2011, mandating that only authorised dismantlers and recyclers collect e-waste. E-waste (Management) Rules, 2016 was enacted in 2017.
India's first e-waste clinic for segregating, processing and disposal of waste from household and commercial units has been set-up in Bhopal, Madhya Pradesh.
Originally, the Basel Convention (1992) did not mention e-waste but later it addressed the issues of e-waste in 2006 (COP8).
The Nairobi Declaration was adopted at COP9 of the Basel Convention on the Control of the Trans-boundary Movement of Hazardous Waste. It aimed at creating innovative solutions for the environmentally sound management of electronic wastes.
E-waste Generation:
This year's Waste Electrical and Electronic Equipment (WEEE) will total about 57.4 million tonnes (MT) and will be greater than the weight of the Great Wall of China, Earth's heaviest artificial object.
According to the Central Pollution Control Board (CPCB), India generated more than 10 lakh tonnes of e-waste in 2019-20, an increase from 7 lakh tonnes in 2017-18. Against this, the e-waste dismantling capacity has not been increased from 7.82 lakh tonnes since 2017-18.