Economic Survey 2020-21: Highlights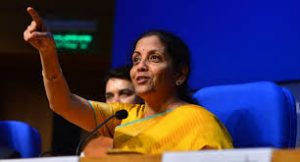 Agriculture:
The Agriculture and Allied activities showed a growth of 3.4 percent at constant prices during 2020-21 (first advance estimate) says the Economic Survey 2020-21.
As per the Provisional Estimates of National Income released by CSO on 29th May 2020, the share of Agriculture and Allied Sectors in Gross Value Added (GVA) of the country at current prices is 17.8 percent for the year 2019-20.
In the Agriculture year 2019-20 (as per Fourth Advance Estimates), total food grain production in the country is estimated at record 296.65 million tonnes which is higher by 11.44 million tonnes than the production of food grain of 285.21 million tonnes achieved during 2018-19.
In 2019-20, the major agricultural and allied export destinations were USA, Saudi Arabia, Iran, Nepal and Bangladesh.
The top agriculture and related products exported from India were marine products, basmati rice, buffalo meat, spices, non-basmati rice, cotton raw, oil meals, sugar, castor oil and tea.
The contribution of livestock in total agriculture and allied sector GVA (at Constant Prices) has increased from 24.32 per cent (2014-15) to 28.63 per cent (2018-19). Livestock sector contributed 4.19 per cent of total GVA in 2018-19.
During the last 5 years ending 2018-19, Food Processing Industries (FPI) sector has been growing at an Average Annual Growth Rate (AAGR) of around 9.99 per cent as compared to around 3.12 per cent in Agriculture and 8.25 per cent in Manufacturing at 2011-12 prices.
Bare Necessities:
Economic Survey 2020-21 constructs a Bare Necessities Index (BNI) at the rural, urban and all India level.
The BNI summarises 26 indicators on five dimensions viz., water, sanitation, housing, micro-environment, and other facilities.
The BNI has been created for all States for 2012 and 2018 using data from two NSO rounds viz., 69th and 76th on Drinking Water, Sanitation, Hygiene and Housing Condition in India.
In most of the States, the access to the Bare Necessities for the household in 2018 is significantly better compared to 2012.
Access to drinking water to households in most of the States has improved in 2018 compared to 2012 in rural as well as urban areas.
Regional disparity in access to sanitation has declined as the States having low access to sanitation in 2012 have gained more.
The survey observes improvement in Housing Index also indicating an improvement in access to housing and reduction in inter-States disparities with disproportionate benefits for the lowest income group in 2018 vis-à-vis 2012.
The economic Survey also notes improvement in microenvironment for all States in 2018 except for Assam in rural and Odisha and Assam in urban areas as compared to 2012.
Survey also points to a positive correlation between access to bare necessities and better health and education outcomes.
It observes improvement in child survival, the decline in stillbirths, malnutrition, and infant mortality with improved access to sanitation and clean drinking water.
Skill Development:
The Economic Survey 2020-21 states that only 2.4 percent of the workforce of age 15-59 years have received formal vocational/technical training and another 8.9 percent of the workforce received training through informal sources.
Out of the 8.9 percent workforce who received non-formal training, the largest chunk is contributed by on-the-job training (3.3 percent), followed by self-learning (2.5 percent) and hereditary sources (2.1 percent) and other sources (1 percent).
Among those who received formal training, the most opted training course is IT-ITeS among both males and females.
The Unified Skill Regulator- National Council for Vocational Education and Training (NCVET) was operationalized recently.
Pradhan Mantri Kaushal Vikas Yojana 3.0 was rolled out in 2020-21 with a tentative target to skill 8 lakh candidates including migrants.
Education:
The Economic Survey 2020-21 states that online schooling took off in a big way during the COVID-19 pandemic.
The percentage of enrolled children from government and private schools owning a smartphone increased enormously from 36.5 per cent in 2018 to 61.8 per cent in 2020 in rural India.
PM eVIDYA which is a comprehensive initiative to unify all efforts related to digital/online/on-air education to enable multi-mode and equitable access to education for students and teachers.
Around 92 courses have started and 1.5 crore students are enrolled under Swayam MOOCs which are online courses relating to NIOS.
PRAGYATA guidelines on digital education have been developed with a focus on online/blended/digital education for students who are presently at home due to closure of schools.
The MANODARPAN initiative for psychological support has been included in Atma Nirbhar Bharat Abhiyan.
India has attained a literacy level of almost 96 per cent at the elementary school level. As per National Sample Survey (NSS), the literacy rate of persons of age 7 years and above at the All India level stood at 77.7 per cent.
Health:
The Economic Survey 2020-21 has strongly recommended an increase in public spending on healthcare services from 1 percent to 2.5-3 percent of GDP, as envisaged in the National Health Policy 2017.
It notes that this can significantly reduce the Out-of-Pocket-Expenditure (OOPE) from 65 per cent to 35 per cent of the overall healthcare spend.
The Survey has recommended that the National Health mission (NHM) should be continued in conjunction to with Ayushman Bharat Yojana.
Drawing from the lessons learned during the ongoing global pandemic of COVID-19, the Economic Survey makes a strong case for complete adoption of telemedicine for meeting the last-mile challenges of healthcare delivery in the country.