1st National Conference of States on Logistics: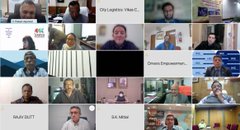 Union Minister of Commerce & Industry Piyush Goyal addressed the 1st National Conference of States on Logistics.
He said that National Logistics Policy, which is under consultation, along with the National Logistics Council and State Logistics Coordination Committee, will work as a template for better coordination and integrated development for the logistics center.
The Minister said that Logistics is all about 5R's: Getting the Right product – In the Right condition – At the Right place – At the Right time – To the Right customer.
India has a $200 billion logistics ecosystem.
A good part of it is supported by the Indian Railways.
Citing studies, the minister said that about 13-14 per cent cost of a product is logistics, and "we wish to bring it down to about 8 per cent".
Need Monthly Current Affairs PDF?
Get everything on your phone with our all in one app for your UPSC Preparation.
Get daily current affairs on you phone
Download monthly current affairs PDF
All India daily mock tests with ranking