Eighth Asian Kabaddi Championship Title: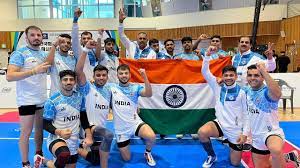 India emerged victorious in the Asian Kabaddi Championship 2023
India won the title for the eighth time in nine editions.
The final took place in Busan, South Korea.
The Indian kabaddi teams will now set their sights on the upcoming Asian Games in Hangzhou, China, scheduled from September 23 to October 8, 2023.
The 1st Asian Kabaddi Championship was held in 1980 and was included as a demonstration game in the 9th Asian Games, New Delhi in 1982.
Kabaddi is best known Indian Traditional Game which basically a combative sport, with seven players on each side; played for a period of 40 minutes with a 5 minutes break (20-5-20).
The core idea of the game is to score points by raiding into the opponent's court and touching as many defense players as possible without getting caught on a single breath.
The All-India Kabaddi Federation was formed in 1950 to look after the promotion of the game.
The new body, Amateur Kabaddi Federation of India (AKFI) came into existence from 1972 affiliated to Indian Olympic Association (IOA) with a view to popularize the game in India & neighboring countries of Asia.