Agasthyamalai Elephant Reserve : India's 31 Elephant Reserve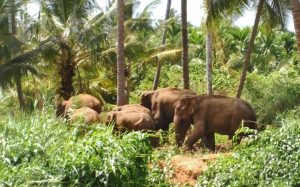 The central government has notified Agasthyamalai Elephant Reserve (Kanyakumari and Tirunelveli, TN) as India's 31 elephant reserve
This will be the 5th elephant reserve in the state.
The forest department may be eligible for additional financing through the centrally sponsored Project Elephant after notifying the Agasthiyarmalai Elephant Reserve.
It will help connect the populations to other areas in the Srivilliputhur Meghamalai tiger reserve and with the Periyar landscapes.
About Agasthyamalai Biosphere Reserve (ABR):
ABR is situated at the southern-most end of the Western Ghats and spread over two southern states Kerala and Tamil Nadu.
It is named after the Agastya Mala peak that rises up to almost 1868 metres above sea level, in Thiruvananthapuram, Kerala.
In March 2016, it was included in the World Network of Biosphere Reserves of UNESCO.
It covers Peppara and Shendurney wildlife sanctuaries and parts of the Neyyar sanctuary in Kerala and the Kalakad Mundanthurai Tiger Reserve of Tamil Nadu.
It is home to the Kanikaran tribe, one of the oldest surviving ancient tribes in the world.