Terai Elephant Reserve: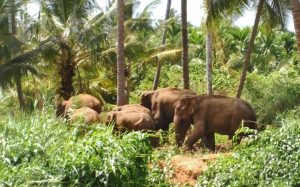 Centre has approved setting up Terai Elephant Reserve (TER) at Dudhwa-Pilibhit in Uttar Pradesh.
Elephant reserves are created under Project Elephant, a centrally sponsored scheme launched in 1992.
Tamil Nadu and Assam have the highest number of elephant reserves with five each.
Asiatic Elephant (IUCN: Endangered) is recognized as a National Heritage Animal and has been given the highest degree of protection under Schedule 1 of the Wildlife (Protection) Act, 1972 and Appendix I of CITES.
India has the largest population of Asian elephants with 30,000 wild and 3,600 captive ones.