Excavations Of Iron In Tamil Nadu: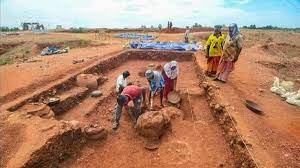 Carbon dating of excavated finds in Tamil Nadu pushes evidence of iron being used in India back to 4,200 years ago, the Tamil Nadu government announced on the basis of an archaeological report.
Before this, the earliest evidence of iron use was from 1900-2000 BCE for the country, and from 1500 BCE for Tamil Nadu.
The latest evidence dates the findings from Tamil Nadu to 2172 BCE.
Chief Minister M K Stalin said in the Assembly that it has been established that Tamils who lived 4,200 years ago were aware of iron.
Dense forests were converted into fertile lands only after humankind began realising the use of iron.
This finding has answered questions relating to the start of agricultural activity in Tamil Nadu.
The excavations are from Mayiladumparai near Krishnagiri in Tamil Nadu.
Mayiladumparai is an important site with cultural material dating back between the Microlithic (30,000 BCE) and Early Historic (600 BCE) ages.
The site is situated in the midst of several archaeological sites such as Togarapalli, Gangavaram, Sandur, Vedarthattakkal, Guttur, Gidlur, Sappamutlu and Kappalavadi. All these important archaeological sites lie within 10 km.