Tiananmen Square Massacre: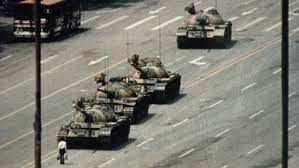 Workers at the University of Hong Kong put took down the towering "Pillar of Shame".
The 8-metre (26-foot)-tall sculpture, which was taken away in parts, remembered the victims of China's 1989 crackdown on pro-democracy protests at Beijing's Tiananmen Square.
There is more than one Pillar of Shame. It is a series of works by Danish sculptor Jens Galschioet, all the same height and typically made of bronze, copper and concrete.
They have been erected in Hong Kong, Mexico and Brazil, and are designed to remind people of events to ensure they don't happen again.
Tiananmen Square Massacre:
The Tiananmen Square protests, known as the June Fourth Incident in China, were student-led demonstrations held in Tiananmen Square, Beijing during 1989.
In what is known as the Tiananmen Square Massacre, troops armed with assault rifles and accompanied by tanks fired at the demonstrators and those trying to block the military's advance into Tiananmen Square.
The protests started on 15 April and were forcibly suppressed on 4 June when the government declared martial law and sent the People's Liberation Army to occupy parts of central Beijing.
Estimates of the death toll vary from several hundred to several thousand.