Exercise "SURYA KIRAN"2022: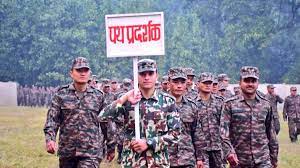 The 16th Edition of exercise "SURYA KIRAN" will be conducted at Nepal Army Battle School, Saljhandi, and continue up to 29 December 2022.
It is an Indo-Nepal joint army training exercise.
It is conducted annually between India and Nepal with the aim to enhance inter-operability in jungle warfare and counter-terrorism operations in mountainous terrain and Humanitarian Assistance and Disaster Relief (HADR) under UN mandate.
Nepal Army soldiers of Shree Bhawani Baksh Battalion and Indian Army soldiers from the 5 GR are participating in the exercise.