Findings Of SIPRI Yearbook 2022: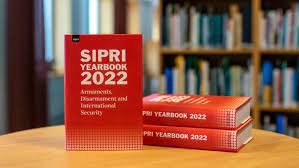 The Stockholm International Peace Research Institute (SIPRI) launched the findings of SIPRI Yearbook 2022.
A key finding is that despite a marginal decrease in the number of nuclear warheads in 2021, nuclear arsenals are expected to grow over the coming decade.
Russia and the USA together possess over 90 per cent of all nuclear weapons.
India had 160 nuclear warheads as on January 2022 and it appears to be expanding its nuclear arsenal.
While India's nuclear stockpile increased from 156 in January 2021 to 160 in January 2022, Pakistan's nuclear stockpile has remained at 165.
China is in the middle of a substantial expansion of its nuclear weapon arsenal, which satellite images indicate includes the construction of over 300 new missile silos.
China had 350 nuclear warheads in January 2021 and 2022.