First Transit Card Of Nation: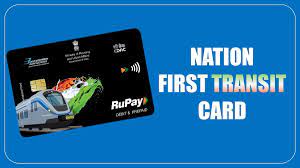 State Bank of India has launched its 'Nation First Transit Card', a RuPay prepaid instrument under the National Common Mobility Card (NCMC) that can be used nationwide.
Nation First Transit Card aims to facilitate a seamless and convenient customer commuting experience and ensure easy digital ticketing fare payments in metro, buses, water ferries, parking, etc., through a single card.
In addition, individuals can also use this card for making retail and e-commerce payments.
It is powered by RuPay and National Common Mobility Card (NCMC) technology.
National Common Mobility Card (NCMC) feature enables the Bank's customers to use their Debit Cards as travel cards for travelling on Metro Rail and Buses where this facility is enabled.
The idea of NCMC was floated by the Nandan Nilekani committee set up by the Reserve Bank of India (RBI).
NCMC is an initiative of the Ministry of Housing and Urban Affairs in India designed to promote cashless transactions and offer a unified payment platform for commuters.
It was launched on March 4, 2019.
It offers a unified contactless transport solution through the RuPay platform, developed by the National Payments Corporation of India (NPCI).
NCMC is an automatic fare collection system. It will turn smartphones into an inter-operable transport card that commuters can use eventually to pay for Metro, bus and suburban railway services.