One Nation, One Ration Card (ONORC) System: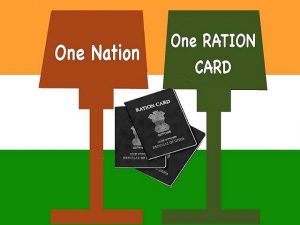 The Supreme Court directed all states and Union Territories (UT) to implement the One Nation, One Ration Card (ONORC) system by 31st July 2021.
The scheme allows migrant labourers covered under the National Food Security Act (NFSA) to access food at any fair price shop with his or her ration card in any part of the country.
The fundamental right to life under Article 21 of the Constitution may be interpreted to include the right to live with human dignity, having the right to food and other basic necessities.
There are around 38 crore workers engaged in the unorganized sectors (National Statistics Office (NSO) data of 2017-2018).
These unorganized workers did not have any permanent source of employment and have engaged themselves in small time vocations and occupations at various places away from their native places.
Contributions of these labourers towards different projects, industries, make considerable additions in the economic development of the country.
ONORC System
Under the National Food Security Act (NFSA), 2013, about 81 crore people are entitled to buy subsidised food grains – rice at Rs 3/kg, wheat at Rs 2/kg, and coarse grains at Re 1/kg – from designated fair price shops.
However, NFSA beneficiaries were not able to access their PDS (Public Distribution System) benefits outside the jurisdiction of the specific fair price shop to which they have been assigned.
By introducing ONORC, the idea was to reform the PDS, which has been historically marred by inefficiency and leakages.