Four New Ramsar Sites: India's Wetlands: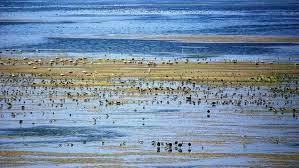 Four more Indian sites – two each from Haryana and Gujarat – have been recognised as wetlands of international importance under the Ramsar Convention.
Further, according to recent estimates by Wetlands International South Asia, nearly 30% of the natural wetlands in India have been lost in the last three decades. Majorly, the loss of Wetlands is more prominent in Urban areas.
Wetlands International South Asia was established in 1996, with an office in New Delhi, as a part of Wetlands International network to promote conservation and sustainable development of wetlands in the South Asia region.
About Wetlands:
Wetlands are ecosystems saturated with water, either seasonally or permanently.
They include mangroves, marshes, rivers, lakes, deltas, floodplains and flooded forests, rice-fields, coral reefs, marine areas no deeper than 6 metres at low tide, as well as human-made wetlands such as waste-water treatment ponds and reservoirs.
Though they cover only around 6% of the Earth's land surface, 40% of all plant and animal species live or breed in wetlands.
New Ramsar Sites:
Recently, the Ramsar Convention has designated four new wetlands in India, as wetlands of global importance. It is an international treaty for the conservation and wise use of wetlands.
Bhindawas Wildlife Sanctuary, the largest wetland in Haryana is a human-made freshwater wetland.
Sultanpur National Park from Haryana supports more than 220 species of resident, winter migratory and local migratory waterbirds at critical stages of their life cycles.
Thol Lake Wildlife Sanctuary in Gujarat lies on the Central Asian Flyway and more than 320 bird species can be found here.
Wadhwana Wetland from Gujarat is internationally important for its birdlife as it provides wintering ground to migratory waterbirds, including over 80 species that migrate on the Central Asian Flyway.
These wetlands are home to endangered bird species like Egyptian Vulture, Saker Falcon, Sociable Lapwing, and the near threatened Dalmatian Pelican.
With this, the number of Ramsar sites in India are 46.