India Has Added Five More Ramsar Sites: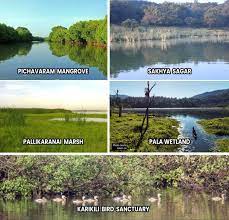 India has added five more Ramsar sites, or wetlands of international importance, bringing the number of such sites to 54.
New Ramsar Sites:
Karikili Bird Sanctuary (Tamil Nadu):
The sanctuary is spread over a five-kilometre-wide belt and is home to cormorants, egrets, grey heron, open-billed stork, darter, spoonbill, white lbnis, night herons, grebes, grey pelican among others.
Pallikaranai Marsh Reserve Forest (Tamil Nadu):
One of the last remaining natural wetlands, the marsh drains in an area of 250 square kilometres encompassing 65 wetlands.
The Pallikaranai Marsh is one of the few natural coastal aquatic habitats that qualify as a wetland in India.
Pichavaram Mangrove (Tamil Nadu):
One of the last mangrove forests in the country.
It has an island of a vast expanse of water covered with mangrove forests.
Sakhya Sagar (Madhya Pradesh):
Created from the Manier river in 1918, Sakhya Sagar is located near Madhav National Park.
Pala Wetland in Mizoram (Mizoram):
It is home to a wide range of animals, birds, and reptiles.
Its geographical location falls under the Indo-Burma biodiversity hotspot and is therefore rich in animal and plant species.
The lake is a major component of the Palak Wildlife Sanctuary and it supports the major biodiversity of the sanctuary.
Ramsar site :
It is a wetland of international importance under the Ramsar Convention, which is also known as the 'Convention on Wetlands' — an intergovernmental environmental treaty established by UNESCO in 1971, and named after the city of Ramsar in Iran, where the convention was signed that year.
Ramsar recognition is the identification of wetlands around the world, which are of international importance, especially if they provide habitat to waterfowl (about 180 species of birds).
There is international interest and cooperation in the conservation of such wetlands and a judicious use of their resources.
Sundarbans in West Bengal is the largest Ramsar site in India.