Ten More Ramsar Sites Added: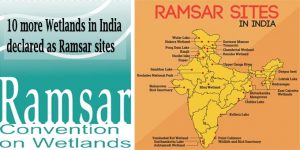 India has added 10 more Ramsar sites, or wetlands of international importance (taking the total number of such sites to 64)
Ten sites are:
Koonthankulam Bird Sanctuary (TN): It is the largest reserve for breeding resident and migratory water birds and an Important Bird and Biodiversity Area forming part of the Central Asian Flyway.
Gulf of Mannar Marine Biosphere Reserve (TN): This will be the first Marine Biosphere Reserve in South & South -East Asia.
Vembannur Wetland Complex (Kanya kumari, TN): It is an artificial human-made inland tank and part of the Important Bird and Biodiversity Area (IBA). It forms the southernmost tip of peninsular India.
Vellode Bird Sanctuary (TN): It lies near the temple town of Erode in the State of Tamil Nadu and is considered a paradise for bird lovers.
Vedanthangal Bird Sanctuary (TN): This also comes under the Important Bird and Biodiversity Area (IBA).
Udhayamarthandapuram Bird Sanctuary (TN): Notable species observed at the site are oriental darter, glossy ibis, grey Heron & Eurasian spoonbill.
Satkosia Gorge (Odisha): The wetland is located over the Mahanadi River. Satkosia is the meeting point of the Deccan Peninsula and the Eastern Ghats (two biogeographic regions of India), thus is a very important place for biodiversity.
Nanda Lake (Goa): The lake in South Goa had already been notified as a wetland. This will be Goa's 1st Ramsar site.
Ranganathittu Bird Sanctuary (Karnataka): It is a bird sanctuary in the Mandya District of the state of Karnataka in India. It is the largest bird sanctuary in the state on the bank of the Kaveri River. It is designated as an Important Bird area (IBA).
Sirpur Wetland (Madhya Pradesh): Situated on the Sirpur Lake (created by the Holkars of Indore State in the early 20th century), the wetland is situated in Indore City.
Previously, 5 new sites were added: Three wetlands (Karikili Bird Sanctuary, Pallikaranai Marsh Reserve Forest & Pichavaram Mangrove) in Tamil Nadu, one (Pala wetland) in Mizoram and one wetland (Sakhya Sagar) in Madhya Pradesh.
Ramsar convention:
It is an international treaty for the conservation and wise use of wetlands.
It is named after the Iranian city of Ramsar, on the Caspian Sea, where the treaty was signed on 2 February 1971.
Known officially as 'the Convention on Wetlands of International Importance especially as Waterfowl Habitat' (or, more recently, just 'the Convention on Wetlands'), it came into force in 1975.
Montreux Record:
Montreux Record under the Convention is a register of wetland sites on the List of Wetlands of International Importance where changes in ecological character have occurred, are occurring, or are likely to occur as a result of technological developments, pollution or other human interference.
It is maintained as part of the Ramsar List.