Gandhamardan Hill Range : Biodiversity Heritage Site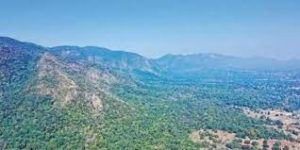 The state government of Odisha declared the Gandhamardan Hill Range in Bargarh and Balangir district as a Biodiversity Heritage Site (BHS).
The Gandhamardan hill (Gandhamardan Reserve Forest) spreads in Bargarh and Balangir districts in Odisha.
This ecologically fragile ecosystem is rich in floral and faunal diversity and is protected under the Odisha Biodiversity Rules – 2012.
The hill range has a diverse socio-economic, ecological and biological significance for the people of Odisha.
This hill consists of medicinal plants, the hill system is considered the 'Ayurvedic paradise' of Odisha.
The hills have 2 historical monuments (hill shrines) which are major pilgrimage sites of Odisha.
Nrusinghanath temple is located on the northern slope.
Harishankar temple on the southern side.
In his chronicles, Hiuen Tsangdescribed the hill shrine as a Buddhist heritage site named
Biodiversity heritage sites:
These are well-defined areas that are unique, ecologically fragile ecosystems with a high diversity of wild and domesticated species, the presence of rare and threatened species, and keystone species.